CSULB's student officials earn third highest pay in CSU
Hang on for a minute...we're trying to find some more stories you might like.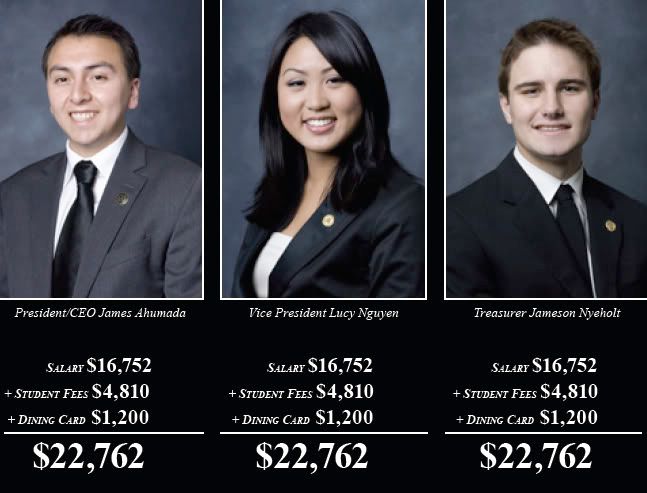 Related articles:
Top-15 paid Associated Students officers in Cal State University system
Graphic: Pay levels for the CSU's Associated Students presidents
CSU's highest paid ASI official says students get their 'money's worth'
Cal State Long Beach's top student government leaders get $22,762 annually in total compensation, making them some of the highest-paid elected student officers in the Cal State University system.
The Associated Students, Inc. president, vice president and treasurer are paid for 25 hours of work per week, according to ASI Treasurer Jameson Nyeholt. In comparison, a student working 25 hours per week at California's $8 minimum wage would make about $10,000 per year.
Nyeholt broke down the compensation for the ASI president, vice president and treasurer:
• A salary of $16,752;
• Free tuition and other compensated student fees that total $4,810;
• A $1,200 food credit for 49er Shops, Inc. vendors.
The officers — President James Ahumada, Vice President Lucy Nguyen and Treasurer Nyeholt — also receive access to staff parking and a BlackBerry cell phone. Nyeholt said they are required to carry the phone for work use while on campus, and the cell phone bills are checked weekly to prevent personal use.
Chief Programming Officer Kimberly Helm and Chief of Staff Austin Metoyer make slightly less: $14,160 in salary plus $4,180 in paid student fees for a total compensation of $18,340. Other ASI officers, such as senators, receive no pay or a $200 to $300 stipend per semester.
According to a survey conducted by the Daily 49er, other top student executives' compensation in the CSU system ranges from $3,200 annually for the president at Cal State Monterey Bay to $29,121 for the president at Cal Poly San Luis Obispo. CSU universities with comparable enrollment to CSULB include San Diego State, Cal State Northridge and Cal State Fullerton.
Nyeholt and Ahumada said they work longer than 25 hours per week — the amount they are paid for.
"I couldn't work another job," Nyeholt said. "I'm usually here until 1 a.m. twice a week. There's so much work to do, and you need to be here if you want to do it right."
Duties of CSULB's ASI officials
ASI's functions include: running the University Student Union and the Isabel Patterson Child Development Center; working with the Cal State Student Association to lobby the Legislature for higher education; processing grants to student organizations; providing student representation on more than 100 campus committees.
CSULB students elect the student officers yearly. Duties of the president include sitting on committees and meeting with students. The vice president chairs the Senate, while the treasurer oversees all of ASI's money and chairs the board of control.
"That students are overseeing this money is the democratic process that we're trying to get," Ahumada said. "That's what the treasurer is — you have a student overseeing the money. It's not some random person in Brotman Hall. This isn't their job for life. This is something that they're elected to do for a year."
Pay system for CSU student governments
There is no uniform pay system for Associated Students organizations. They are auxiliaries of their universities and, consequently, have a degree of financial independence. CSULB's ASI is considered a not-for-profit corporation. Some CSUs award student government officers with free student fees, parking, cell phones, or stipends, while others give salaries.
ASI Executive Director Richard Haller said the CSULB system was set up in the 1970s, when the student body voted on the principle of compensating student officers. Since then, the ASI board of control — chaired by the ASI treasurer — has reviewed officer pay yearly, he said.
The corporation abides by a policy that allows it to pay officers up to the amount that CSULB's financial aid office says it costs for a single student living off-campus to get by. Haller said the fellowship agreement the executives work under does not allow them to hold outside employment.
The CSULB Foundation pays for four of the five executives' student fees, Haller said. Since the chief programming officer is a relatively new position, her student fees are instead paid directly out of ASI's funds.
Nyeholt said the food credit is a deal with 49er Shops, Inc., designed to allow the executives to sample the food and service at campus eateries. When the top three officers are elected to their positions, they automatically become part of the 49er Shops, Inc. board of directors. The $100 per month meal plan comes from the company's budget and can be used at restaurants like the Outpost Grill, Nyeholt said.
The salaries come from ASI's nearly $12 million projected annual revenue, of which about $8 million comes from student fees, according to the 2010-11 projected budget. Each semester, every CSULB student pays a $44 Associated Students fee and a $168 USU fee, which also grants access to the Student Recreation and Wellness Center. As temporary leaders of a not-for-profit corporation, Ahumada said the executives are legally responsible for allocating ASI's funds and signing documents that promise fiduciary responsibility.
Ahumada also said the executives took a pay cut from a salary of more than $18,000 annually in 2008, when the budget started to look bad. Haller said that this year, they are not actually receiving the maximum amount they are allowed under the agreement.
"Years ago, we used to be the highest [paying]," he said. "That's not the case anymore … The model we started has become more accepted as the norm; it's based on the cost of living at the particular campus."
Response to ASI's compensation levels
Ahumada said that he made about the same amount of money as he does now working as a banquet server before he was hired at ASI. He said that although the sticker price at CSULB may seem high to some struggling students, student leaders would not be able to work effectively if they had to keep another part-time job.
"If students see the whole big picture of it, I don't think they would have a big issue," Ahumada said. "It's not just all the work that we do on campus, but we're also working at a different level, lobbying the state legislature and doing drives, like this voter registration. You need to have people that can be committed to it."
Some students said the pay seems fair for the amount of work that ASI does.
"If they're doing real work, it can be justified, considering RAs basically get paid their housing, and I'm sure [ASI] does more work than that," junior marketing major Jeff Ham said. "I think it's OK for ASI to get paid at least something for what they do because they actually help shape the campus and improve on it."
However, in an educational system wrought with ever-increasing fees, and an economy where any employment is hard to come by, other students said they thought more than $22,000 yearly was too much for undergraduate students to receive for part-time work.
"I don't think that it's fair that it comes out of the student fees," said Phillip Huy
nh, a junior biology major. "Tuition increases and budget cuts are already bad enough as it is."
Kelly Nguyen, a senior health administration major, said she never knew how much the ASI executives were paid, and she couldn't understand how student fees "are constantly increasing when the top three [leaders] of ASI are getting such an amount of money."
"It makes me feel like every year people are running for the positions just for the benefits," she said.
ASI's leaders said the executives' positions are real jobs that can't be compared with any volunteer student activities, like clubs or sports.
"I try to fill up any free time with meetings and at night is when I get all my studying done," Ahumada said. "I would say we do, at minimum, around 30 hours [of work] and depending on the week, it could range up to 40 or 45."
Katrina Guevara contributed to this article.
Disclaimer: The Daily 49er is not responsible for Postings made on www.daily49er.com. Persons commenting are solely responsible for Postings made on this website. Persons commenting agree to the Terms of Use of the website. If Postings do not abide by the Rules of Conduct or Posting Regulations as listed in the Postings Policy, the Daily 49er has all rights to delete Postings as it deems necessary. The Daily 49er strongly advises individuals to not abuse their First Amendment rights, and to avoid language suggestive of hate speech. This site also encourages users to make Postings relevant to the article or other Postings.